Pre-curved Fingers: RUNCL cold-weather fishing gloves with hook-and-loop fasteners on the thumb, index finger, and middle finger, can easily free your fingertips, provides you with flexible operations such as tying knots, changing baits, and other fishing tasks.
Anti-slip Silicone Palm: Wearable microfiber palm with anti-slip silicone logo printed pattern makes RUNCL fishing gloves more durable while ensuring an excellent grip even in damp condition.
Smartphone Friendly: A special material (copper fiber) is attached to the tip of the index finger, to help you tap through whatever you need to get done in the cold. Quick-release loops set on the index and middle fingers make it easy to pull on or off your gloves.
Warm Fleece Lining: The fishing gloves are lined with warm fleece to keep your hands warm and dry when engaging in outdoor activities such as fishing. Plus the adjustable hook-and-loop wrist strap makes it suitable for any size wrist and keeps the cold wind out.
Key Features: RUNCL winter fishing gloves for men or women have open finger slots for dexterity - Pre-curved fingers with hook and loop tape – Smartphone friendly fingertips – Anti-slip silicone palm – Polar fleece lining and neoprene and microfiber palm - Hook and loop wrist strap.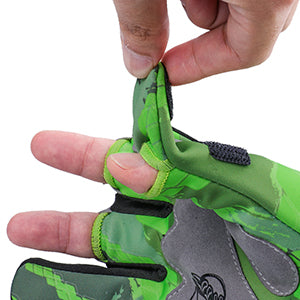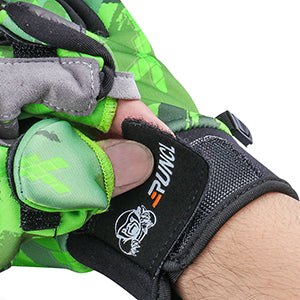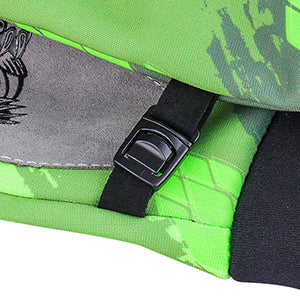 SHIPPING
Orders containing product that is in stock will generally be shipped with in 3 days. Exceptions to this are generally posted to advise of special events which prevent us from shipping. Our team works to ensure that your order is shipped as soon as possible.
If a tracking # is provided by the shipping carrier, we will update your order with the tracking information. Please note that some orders using the International shipping carriers will be fulfilled by two shipping carriers, and USPS make the final delivery to your address. Therefore, the tracking information will not be updated until the package arrives at USPS.
RETURN AND REFUND POLICY
Runcl will accept returns within 30 days from receipt of merchandise under the following conditions: Product needs to be returned unused,with all printed material and accessories en closed. If not in it's original condition or the product shows signs of installation, additional charges will be applied or may not be accepted. Once your return shipment has been received and approved, your return will be processed.
Failure to comply with the process and terms stated above may result in a processing delay and/or a refusal of the returned package.