Fishing Gloves: What Kind Of Gloves Do You Use For Fishing? (2022 Updated)
There are many important equipment that are vital to an angler. Most will think about rods, reels, baits, lines, tackle boxes and so on. And anglers probably won't think of gloves immediately when outfitting the ultimate fishing gear set.
However, a good pair of fishing gloves will keep your hands protected, even though you may have to get used to wearing them while you're fishing. The extra layer of protection on your hands can save them from line cuts, hook sticks, sun exposure, fish teeth, and sharp fins. They'll also help keep your hands dry during a day on the river, lake, or ocean.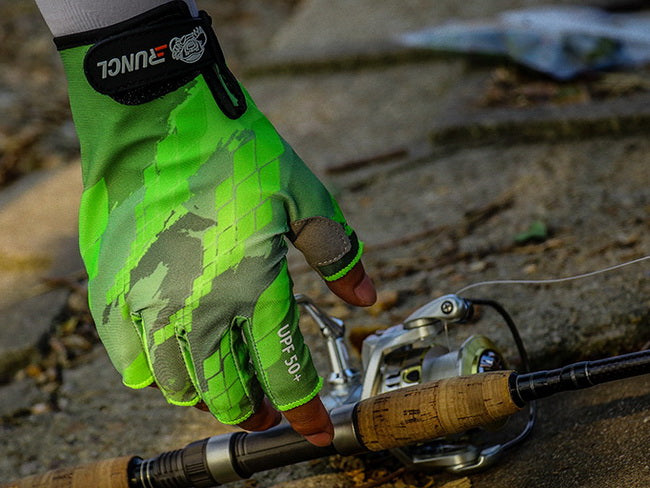 5 reasons angler wear gloves
Protect your hands from different weather. The extreme heat from the summer sun is not only painful to the skin but also harmful. According to experts, protecting your hands in the extreme heat is just as important as the frigid cold weather. When the cold weather comes, a pair of winter fishing gloves will keep your hands dry and warm and allow you to finish all outdoor tasks well while remaining impervious to the wind.
Provide better control. Wearing a pair of gloves with silicone-enhanced fingers or palm will ensure a sure grip even in damp conditions. It will also keep your hands warm and dry so that you can maintain tight and provide better control.
Offer more comfort. Some fishermen may not be used to wear a pair of gloves while fishing, but you'll eventually feel comfortable fishing with your gloves on most importantly for an extended period. Don't rush to deny it, try it first.
Prevent unexpected situations from happening. Fishing is fun but sometimes can be very dangerous. So it's best if you get yourself prepared at all times if things went out on hand. For these uncertainties, wearing the most suitable fishing gloves is essential. And they can also offer some protection from sharp dorsal spines or gill plates.
Have other versatile uses. Some gloves features lots of angling-friendly designs, which will make fishing more efficient. Such as a microfiber thumb will help you better tighten the knot without hurting your finger.
Gloves that RUNCL offers for angler
RUNCL RAGUEL All-Fingerless Gloves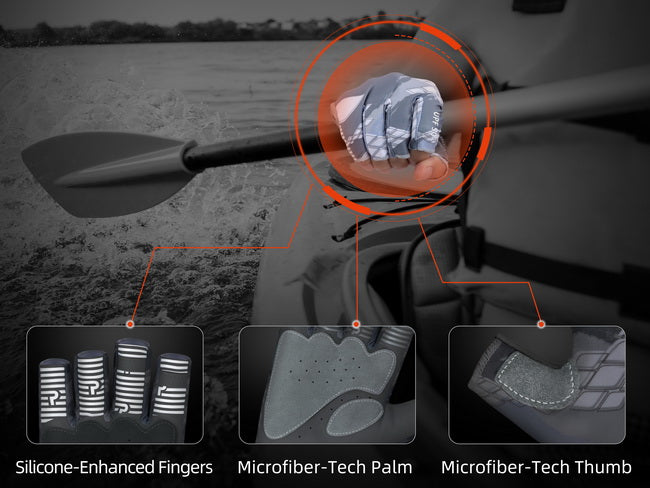 Maximum Sun Protection: Features UPF 50+, delivers maximum sun protection to safeguard your skin from harsh sunrays and inclement weather.
Half-Finger Style: The fingerless fishing gloves leave the tips of your fingers free, provide you with sensitive touch and rigging dexterity when you're tying knots, rigging bait, handling fish and other fishing tasks.
Angling-Friendly Design: Silicone-enhanced fingers ensure a sure grip even in damp conditions, hook 'n' loop wrist closure provides a secure fit, pull loops on middle finger and index finger make pulling them on and taking them off a breeze.
RUNCL RAGUEL Winter Warm Gloves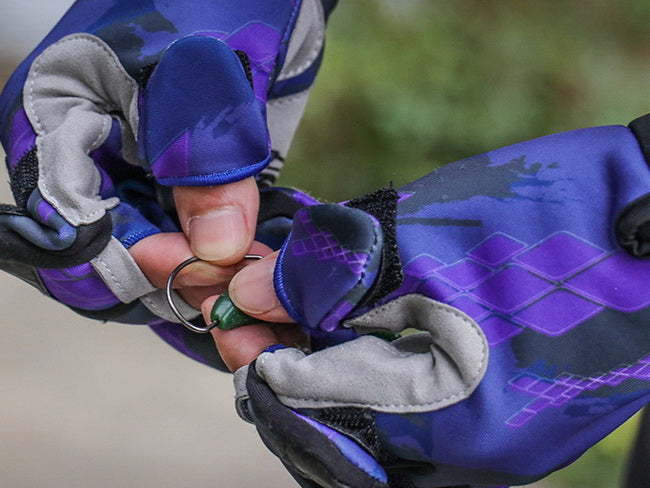 Smartphone Friendly: A special material (copper fiber) is attached to the tip of the index finger, to help you tap through whatever you need to get done in the cold. Quick-release loops set on the index and middle fingers make it easy to pull on or off your gloves.
Pre-curved Fingers: RUNCL cold-weather fishing gloves with hook-and-loop fasteners on the thumb, index finger, and middle finger, can easily free your fingertips, provides you with flexible operations such as tying knots, changing baits, and other fishing tasks.
Warm Fleece Lining: The fishing gloves are lined with warm fleece to keep your hands warm and dry when engaging in outdoor activities such as fishing. Plus the adjustable hook-and-loop wrist strap makes it suitable for any size wrist and keeps the cold wind out.
Anti-slip Silicone Palm: Wearable microfiber palm with anti-slip silicone logo printed pattern makes RUNCL fishing gloves more durable while ensuring an excellent grip even in damp condition.