Improved Process: The TITAN I spinning reel is constructed of full metal body with two color anodized after polishing and precision-machined single-piece frames. The surface of rotor component is protected by phosphating coating for enhanced wear resistance. 168-hour Salt Mist Test effectively prevents the spinning reel from saltwater corrosion.

Butter Smooth Construction: 9+1 precise stainless steel shield bearings, stronger precision NCTM (No Clearance Transmission Mechanism) solid brass pinion gears, strengthened aluminum drivetrain, 20% thicker stainless steel main shaft and sealed multi-disc carbon drag system in RUNCL TITAN I spinning reel delivers uninterrupted and balanced performance.

Entire Shield System: The TITAN I spinning reel features a built-in R.E.S.S. (RUNCL Entire Shield System), offers exceptional protection for the main body, spool and rotor, helps keep water, sand and dirt out, better protects your reel even it takes an accidental dunk.

Super Power Drag: The sealed drag system comes with premium multi-disc carbon fiber washers ( 3 carbon fiber washers in size 2000 and 3000, 5 carbon fiber washers in size 4000, 5000 and 6000) for reliable stopping power, helps to boost maximum drag by 40% (up to 44lbs) and guarantees you a larger catch.

Hollow Out Design: The CNC-machined aluminum Vented Spool and the Hollow Out Rotor significantly reduce the weight of the spinning reel without sacrificing strength and durability.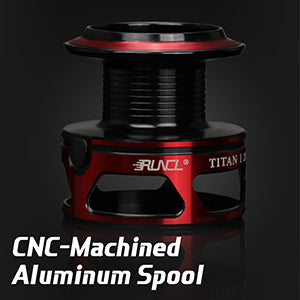 The spinning reel is equipped with a CNC-machined aluminum spool, allows to spread the fishing line properly all over the spool.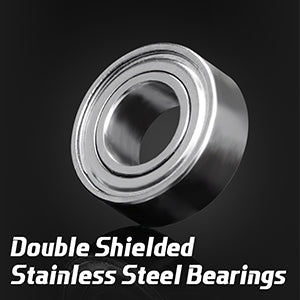 9+1 precise double shielded stainless steel bearings, offer you silky smooth & balanced operation and effortless retrieves.
Precision NCTM solid brass gear and strengthened aluminum drivetrain, deliver uninterrupted and stable performance.
SHIPPING
Orders containing product that is in stock will generally be shipped with in 3 days. Exceptions to this are generally posted to advise of special events which prevent us from shipping. Our team works to ensure that your order is shipped as soon as possible.
Most orders are shipped via USPS ground. Most International orders are shipped via DHL. Tracking numbers will typically be emailed once an order has been processed and shipped.
RETURN AND REFUND POLICY
Runcl will accept returns within 30 days from receipt of merchandise under the following conditions: Product needs to be returned unused,with all printed material and accessories en closed. If not in it's original condition or the product shows signs of in stallation, additional charges will be applied or may not be accepted. Once your return shipment has been received and approved,your return will be processed.
Failure tocomply with the process and terms stated above may result in a processing delay and/or a refusal of the returned package.