Spinning Reel Tips: 5 Tips Help You To Choose A Correct Spinning Reel
Today's fishing reels are high-tech tools that have moved the industry forward at a rapid pace in the past few years. For the entire fishing industry, it is an unprecedented good thing. At the same time, this situation also brings trouble to shoppers - How to choose the correct reel.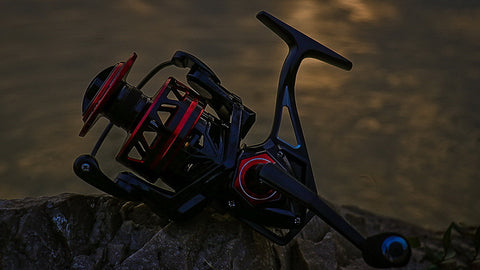 Below you'll find 5 keys to help you find a spinning reel that offers excellent performance for your needs and your fishing style.
Tip #1 Think In Advance What Are You Looking For
Consider what it is you want to catch, what pound test line you plan to use, what type of lures you intend to cast and finally, consider which type of water you are fishing for, saltwater or freshwater.
The size of fishing line you will most often use will determine on the reels size you need to choose. In general, the lighter weight the fishing line, the smaller the reel size.
The type of water matters because the target fish are different in the freshwater and saltwater. With saltwater, you will target bigger fish than in freshwater. The second reason why you should consider is that salt is so brutal and destructive to metal. So it's necessary to have a sealed saltwater spinning reel to ward off salt intrusion if you are fishing for saltwater mostly.
By taking this first simple step, you can eliminate 90% of the reels in the store. We also suggest you read these articles to know more about spinning reels before purchase here: Spinning Reel 101 - What Are The Visible Parts Of A Spinning Reel
You've narrowed your search considerably before you ever leave the house. Now it's time to consider something different.
Tip #2: A Lightweight Reel Is A Keeper
This will determine two important factors, one its weight and the second its comfort. To confirm reel weight you will have to choose the reel size and its frame material. The performance of a reels' materials has to achieve two things. First, it needs to be strong to stand up to big fish. Second, it has to be lightweight to prevent angler fatigue. You can read more details on its weight here: Spinning Reel 101 - Guide To Understanding What The Numbers Mean On A Spinning Reel
Tip #3: Don't Compromise On The Reel Drag System
A drag system is a braking system inside the reel. It applies friction to slow the spool when hooking and fighting a fish.
Drag quality matches reel quality, which means you get what you pay for. An ideal drag system should be buttery smooth with an easy to adjust drag. The line should cast and retrieve at a steady pressure at whatever tension you set the drag.
The most common drag is using the carbon fiber washers for reliable stopping power.
Tip #4: Bearings - Quality over Quantity
Reel manufacturers will often print a set of numbers to state bearings on the spinning reel spools. For example: '5+1'. The first number '5' means a 5 main ball bearing unit, while the second number '1' means with one roller bearing related to the anti reverse to stop your reel going the other way.
There are four main factors that affect a reel's performance: the body of the reel, in particular what it's made of; the gear train of the reel; the reel's drag; and the entire bearing system.
Most anglers agree that the more bearings a reel has, the more fluid and smooth the movement is. But the truth is that reels with lots of bearings aren't necessarily better. The quality of the bearings are much more important than the number of bearings. Getting a good reel with high-quality ball bearings will serve you better in the long run.
Tip #5: Gear Ratio Matters When Retrieving
For general applications, most anglers will want a fast gear ratio around 6.0:1. But there are still lower gear ratio like 4.0:1, and higher gear ratio like 7.0:1. Reels with low gear ratio will provide more torque for fighting stronger big game fish. On the other side, this ratio will need several quick rotations to retrieve fishing line. Higher gear ratio reels are "fast" since it allows for rapid retrieval of the lure. Topwaters, jerkbaits, jigs, plastics and even lipless crankbaits warrant the use of a high speed reel.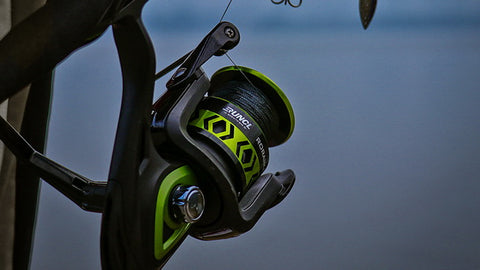 When purchasing your next reel, determine in advance what bait it is you are going to throw, and what type water you are fishing for.
Choosing the correct spinning reel can be a bit confusing, but with some basic understanding of this simple guides, things will get easier for your next purchase. Purchase the best fishing reel that you can afford, and it will be your best friend out on the water for many years to come!