【$0.99】RUNCL ProBite Creature Baits 4.2in 15pk
Translation missing: zh-CN.products.product.sale
Translation missing: zh-CN.products.product.sold_out

【$0.99】RUNCL ProBite Creature Baits 4.2in 15pk
Shipping Cost: ( ship from the USA directly!) 
Fennel Flavor: Cooked-in fennel scent dispersal rapidly draws fish in from distances, creates a strong feeding urge even live bait can't match, and causes fish to latch down longer for a better catch ratio.
Deep Ribs: Constructed with extra-deep ribs along the compact body, holds air and releases tiny bubbles to create a natural breathing action, displaces a large amount of water with even the slightest current or movement, and makes it easy for big bass to hone in from a great distance.
Oversized Pinchers: The creature bait possesses hyper-action paddle-like claws, displaces more water and creates attention-grabbing action that bass can't resist. Can be fished on a Texas Rig or No Sinker Rig, with up to a 4/0 hook, or used as a jig trailer to bulk up the bait.
Realistic Movement: The bait features a unique craw-style presentation with two huge pinchers and various appendages, flaps wildly with a fluent lifelike action on the fall as it swims through the water, delivers a living, breathing action that will catch bass off guard and trigger an aggressive reaction strike.
Proven Colors: Offered in a selection of fish-catching colors, it helps you better match the hatch on any body of water, ideal for any fishing conditions that need enhanced action.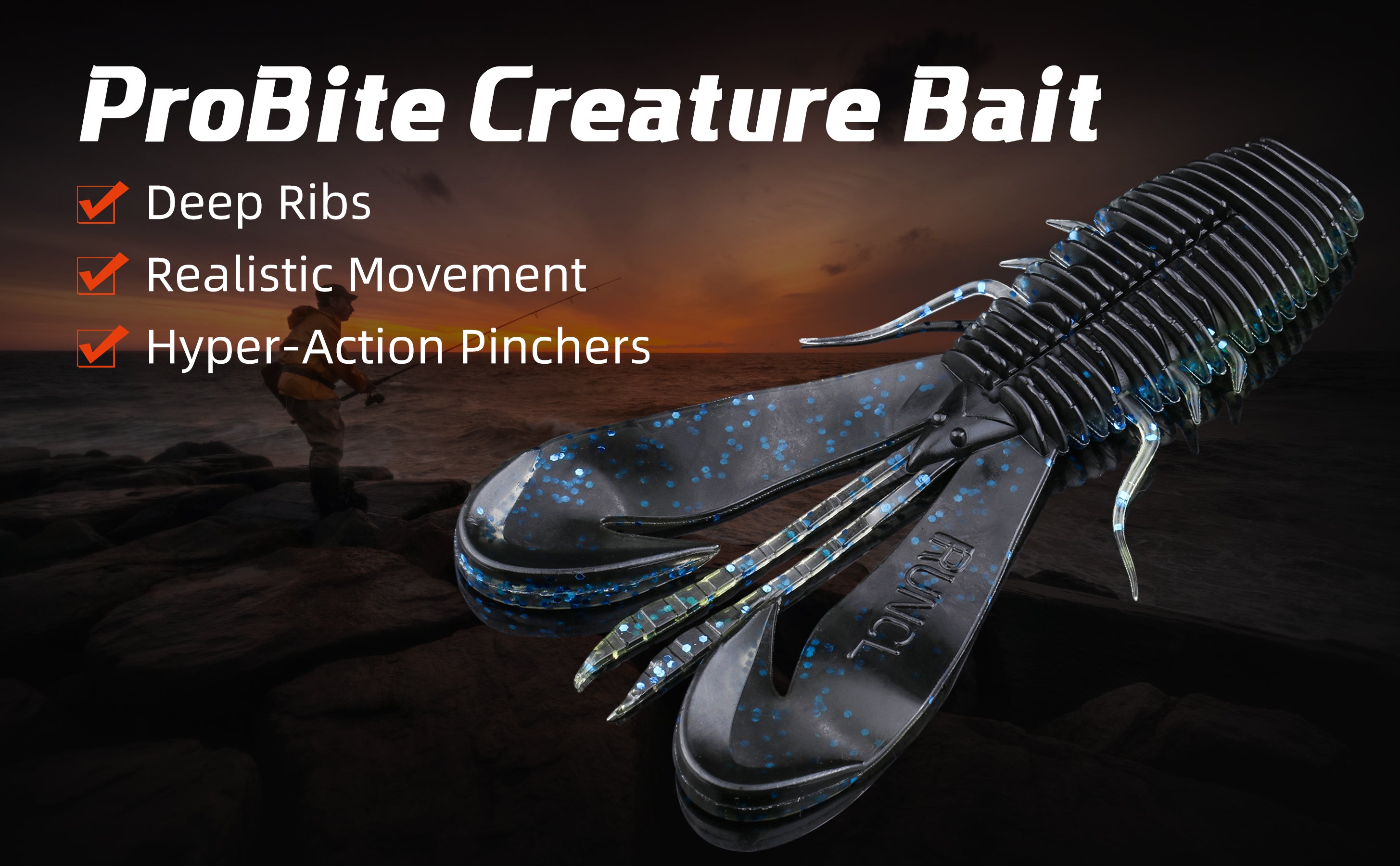 Lifelike Design: Features streamlined baitfish profile, flawlessly imitates an actual creature, help anglers attract a bigger catch.
Hook Slot: Equipped with one hook slot on top and another hook slot in its belly for easier rigging and better hooksets, and helps bury the hook-point to not get snagged up by the heavy cover.
Colorful Glitter: Features different colors of glitter, flashes and shines to imitate the natural reflection of a panicked baitfish for better attracting fish and triggering more strikes.